Washboard abs, rock-hard deltoids? Ummm NOPE…I'm not talking about this kind of Chippendale!
However,  I am talking about something (in my opinion) even more fabulous!!! That would be Chinese Chippendale-style furniture! If you are a designer or closely follow interior design you may have seen this style of furniture and accessories gaining popularity over the last couple of years. Recently I've had the pleasure of working on a wonderful kitchen remodel project with a great client who has the most beautiful and unique Chinese-style Chippendale dining table and chairs. I imagine the set was purchased during the late 70s or early 80s. She obviously invested wisely because it's still very much in style today. It's really great to work with clients that have beautiful existing pieces of furniture they want to incorporate into their new design. It really helps with the project budget and for selfish reasons, makes my job a little easier!
Just a bit of brief history. In 1754, a book was published in London where cabinet maker Thomas Chippendale featured some of his best designs. Chippendale's designs fall into three main styles:
Gothic, Rococo, and Chinese. Thomas Chippendale blended all these style elements into unified designs. The term "Chippendale" refers to English furniture of the 1750s and '60s with a particular Rococo flair. Today, Chippendale chairs have gained popularity again, often seen in bright painted colors for whimsical and modern look. Here's a quick glance at the unique and timeless style of Chinese Chippendale!
I love with these dining chairs from Jonathan Alder. In fact, I'm a huge fan of most of JA products! Very stylish!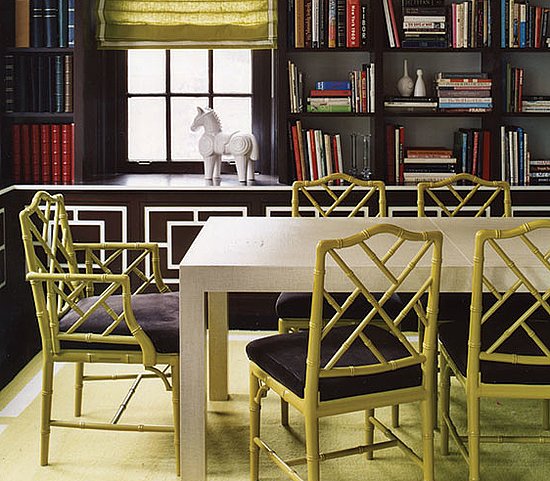 Ooh, here's one from Wistera Outlet, one of my all-time favorite stores! Hmmmm, wonder if they have one of these in their scratch and dent section?
Guild Chinese bamboo mirror. I would seriously love to own this. But, it's waaay out of my price range! Very pretty though!
Oh so cute turquoise painted desk.
Drooling over this coffee table…
Classic bamboo Chippendale chair in lucite but not sure about the seat. I've never been much of a fan of toile, but the chair is pretty cute!
Awesome Chippendale-style headboard. I could just see it painted a high-gloss bright color!
Bamboo dining chair with arms in nickel chrome with black alligator cushion bottom. Very cool.